Our crew
The Nelson Marlborough Rescue Helicopter crew are on standby 24/7, 365 days of the year.  They are trained in helicopter underwater escape, water rescue, bush survival, snowline survival, avalanche survival, high altitude and nigh winching, flying the wire environment, CAA competency check, night vision goggles and winch competency.  In order to keep our crew compliant with CAA and regulatory requirements to provide a world class service, the Trust requires ongoing funding to keep crew currency.  This training keeps them highly trained in our rugged and isolated environment and saves vital lives in our community.
Each crew member is clothed in fire retardant clothing and flights suits and wear appropriate safety boots chosen for the changing terrain.  All crew have their own personal locator beacons, life vests, noise cancelling helmets and raincoats.  Pilots and crew are required to wear night vision goggle to aid them to fly at night without relying on moonlight increasing helicopter safety and callouts.  The cost of this equipment per pilot and crew person is approximately $30,000.
Medical equipment used by our Intensive Care Paramedics include a defibrillator, ventilator, suction unit, video laryngoscope and while winching utilise stretchers, winch nappy and a cinch collar.
Our Pilots
Barry 'Baz' McAuliffe
Pilot
The view from the cockpit has been rather different over his career, from the Artic, to Australia, India and Papua New Guinea, and now, back to the Nelson Marlborough regions. Knowing he helps people is what drives Barry, no day is the same and no view is either.
Colby Tyrrell
Pilot
The shift from touring commercial pilot to emergency service work Colby has relished. The reactive nature of the work with the Rescue Service responding 24 hours a day in sometimes less than favourable conditions keeps things fresh.
Euan Stratford
Pilot
Working in the region he grew up in, and in a role that helps the community is a big plus for Euan. He loves flying around the top of the South.
During the lockdown Euan and the team worked a slightly different roster meaning they worked 48 hours in a row. During this time, Euan stayed at base in his parent's camper van when on duty!
Brendan Hiatt
Pilot
The satisfaction of reeling in a "big one" on his boat is nothing compared to the feeling of satisfaction Brendan gets after completing an intense and successful mission.
Knowing that what he does as part of the team, to help people in our community get to the care they need faster is incredibly satisfying.
Our Crewman
Paul 'Ernie' Bryant
Chief Crewman
With 3,768 missions (and counting) and 23 years as Emergency Medical Service (EMS) crew, Ernie has met thousands of people from our community through his life saving work on the helicopter.
Ernie is just one of the friendly faces you will see at the top of the winch wire pulling you to safety; should you ever need it.
Carl Babe
Crewman
A successful and intense winch job that helps get someone the care they need, when they need it, is one of the most rewarding parts of Carl's job.
He finds it incredibly reassuring knowing that help is there if he needs it while he is out doing what he loves whether it be sailing our coastline, tramping or skiing in our mountains or on the mountain bike trails.
Jeff Hughes
Crewman
From a role as a military contract Helicopter MEDEVAC and rescue, through to protective details for former President Obama, Jeff is now settled in his dream role, helping his community the best way he knows how.
Jeff has been operating as an Advanced Life Support or Intensive Care Paramedic for over 15 years, and is a safe pair of hands, there for you when you need him.
Our Paramedics
Gary Tobin
Intensive Care Paramedic
After over 20 years with the rescue helicopter, Gary still finds the work incredibly rewarding. "Every time we go out the situation is different, flexibility and adaptation are key. It never gets old and is always a privilege".
Gary says that it is brilliant to be part of a team of committed professionals who genuinely care about what they do. Public support has always been vital to the operations of the helicopter and he is humbled by the degree of mana the community bestow upon the rescue team.
Barnabie 'Barney' Rennie
Intensive Care Paramedic
Barnaby loves the variety of missions the rescue team are called to. From supporting people in rural areas, transferring critically unwell patients for specialist care and rescue missions in the hills, no call-out is the same.
"It's never a dull day with the rescue helicopter, we meet some fascinating people and no one is ever unhappy to see us show up."
Matt Wilkinson
Intensive Care Paramedic
Like many of his colleagues, Matt has lost count of the lifesaving missions he has completed.
Aside from the view on the job, Matt loves the closeness of his team and credits this for the incredible care and effectiveness of the team when undertaking life saving missions.
Greg Scott
Intensive Care Paramedic
Greg Scott has been a paramedic for as long as he remembers. Greg enjoys being able to get into places that would be somewhat difficult otherwise to deliver patient care. He also likes the teamwork aspect of the work, as they all (Pilot, Medic and Crewman) have a vital part to play in the life saving work they do. He acknowledges that without any one of them, the job would be impossible.
Prue Young
Intensive Care Paramedic
Prue loves the role of medic. She says that the team work as a close-knit unit, utilising their skills to maximise the patient's outcomes.
Ever changing situations with patient treatment, weather, other environmental concerns and small confined areas, present unique challenges to overcome, but Prue says it is a special feeling to go home and know you have truly helped someone in their time of need.
Steve Ward
Intensive Care Paramedic
Steve credits his job for allowing him to meet some truly amazing people during his career. He thoroughly enjoys the variation and challenge of working with the Rescue Helicopter; no call is the same.
"In challenging situations, conducting a search, or providing care to a critically ill patient is a privilege." Being part of a team that can make a difference in people's lives when things are at the worst is something Steve is deeply passionate about.
The Trust
A deliberate blend of expertise and practical experience has been sought in establishing the make up of the Trust under the Chairmanship of Robert Williams.  The Trustees set policies and procedures and monitor the Trust's operational and financial performance and its obligations and agreements with sponsors.
The Trust is committed to keeping administrative overheads to a minimum, reserving funds for operational costs wherever possible.  There is only one full time employee and one part time employee, with hundreds of hours being given free of charge by the Trustees, volunteers and the business community to support the service.
Our Fundraisers
Paula Muddle
General Manager
With strong governance and a background in market research, marketing, design and sponsorship, Paula is employed by the Trust to ensure existing and new sponsors receive a high and favourable profile in the community and to obtain additional sponsorship and support for the Trust.
Our board
Rob Williams,
Chartered Accountant
Chairman
A Partner of Crowe Horwath Chartered Accountants. Rob is involved in providing advice on the acquisition/disposal of large commercial properties and works with major clients in the fishing and retailing industry. As well as his involvement with the Nelson Marlborough Rescue Helicopter Trust he is Treasurer of Nelson Deerstalkers, Treasurer of the Nelson Club, past Treasurer of Tasman Bay Cruising Club and Nelson Underwater Club. His interests include hunting, fishing, diving and skiing.
Johnson Scutt,
Winemaker
Trustee
A qualified winemaker with extensive international vintage experience. For the past 12 years he's been working for Winery Exchange Inc, a large United States alcohol beverage company based in San Francisco. Initially situated in Barcelona, Spain Johnson and his family returned to Nelson in 2009 where his responsibilities include purchasing, winemaking and quality control for the Southern Hemisphere. A Nelson College old boy and boarder in Fell House he was educated at Charles Sturt University in Australia graduating with a BSC in Wine Science.
Geoff Devine,
Director
Trustee
Geoff has been involved in the Fitness Industry for over 25 years both in NZ and overseas.  After finishing his study at Otago University and travelling overseas, Geoff decided to settle back in Nelson with his wife Louise and open Devine Fitness in 2001.  After selling Devine Fitness in 2010 he's set up outdoor fitness parks around New Zealand as well as a Paddle Board Company and has helped out a number of community gyms around the country.  Geoff has two daughters and is involved in Nelson Golf Club, mountain biking and learning to surf.
Amanda Munting-Kilworth,
Lawyer
Trustee
Amanda is a lawyer specializing in employment and family law. She is a director of DMK Law Ltd a boutique family and employment law practice. She is also a qualified mediator.
Amanda grew up in Nelson and after many years practicing law in Christchurch and London she returned to her hometown around 10 years ago with her (then) young family. She now has a daughter at University, a son working and another at college.
Amanda feels privileged to be on the NMRHT board and will endeavour to apply the skills and various strengths she has acquired over the years in legal practice and in bringing up three children to enhance the boards' commitment to the Trust's purpose and goals.
Dennis Christian,
Real Estate
Trustee
Educated in Nelson, Dennis returned here in 1992. Married with three sons, he has a background in banking, tourism and governance.  He Chairs the Board of the Tahuna Beach Camp Association as well as being a trustee and on the Board of Nelson College plus two other commercial boards.  After many years with the Bank of New Zealand he resigned in 2001 and with his wife Vonnie owned and operated Flying Kiwi Adventures, a nationwide tour operation until 2020 when Covid-2019 decimated the business.  During lockdown he took the opportunity to retrain and is now employed with Bayley's Nelson.  A long fan of the work of the Rescue Helicopter he feels honoured to be involved in ensuring the long term sustainability of the service.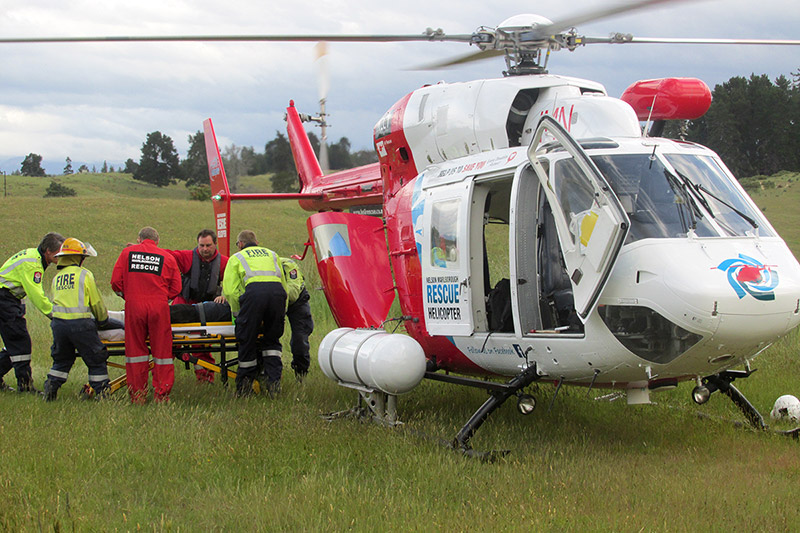 Our operator
We are privileged to have had GCH Aviation as the operator of the Nelson Marlborough Rescue Helicopter service since 1996.
GCH Aviation is an umbrella brand representing their parent company Garden City Helicopters, based in Christchurch, New Zealand and a large number of associated aviation operations extending throughout New Zealand and into the South Pacific.
These operations include Garden City Helicopters Christchurch, Garden City Helicopters Nelson and Garden City Helicopters Greymouth, Wellington Helicopters, Pacific Island Air Fiji and Vanuatu Helicopters. The Group also represents emergency air rescue and air ambulance operations: Westpac Rescue Helicopter, NZCC Rescue Helicopter, Nelson Marlborough Rescue Helicopter and the New Zealand Flying Doctor Service plus GCH Aviation Jet Centre and GCH UAV drone division.
Together, GCH Aviation represents over three decades of exceptional aviation experience in helicopter and fixed-wing tourism, certified flight training, commercial, air rescue and ambulance operations.
Safety is the paramount consideration for all their operations. Since their establishment as commercial, EMS and tourist operators, GCH Aviation has had an enviable safety record.  GCH Aviation is an approved CAA check and training organisation. It is approved to carry out CAA 135.607 checks for many of the helicopter operators in the South Island.
The vast experience of the pilots, regular training, familiarity of equipment and extensive and continual exposure to the extreme terrain covered by their network, ensure that their safety record is maintained.  This is complemented with in-house aircraft maintenance and quality assurance programmes.