1991
On the 23rd of May 1991, the Nelson Marlborough Rescue Helicopter Trust's Deed was signed with 11 Trustees forming the new Trust in order to operate a rescue helicopter service in the top of the South Island.  This was a semi dedicated Squirrel AS350 helicopter operated by Helicopters New Zealand.
1992
New Zealand Community Trust, a gaming machine Trust became major funder.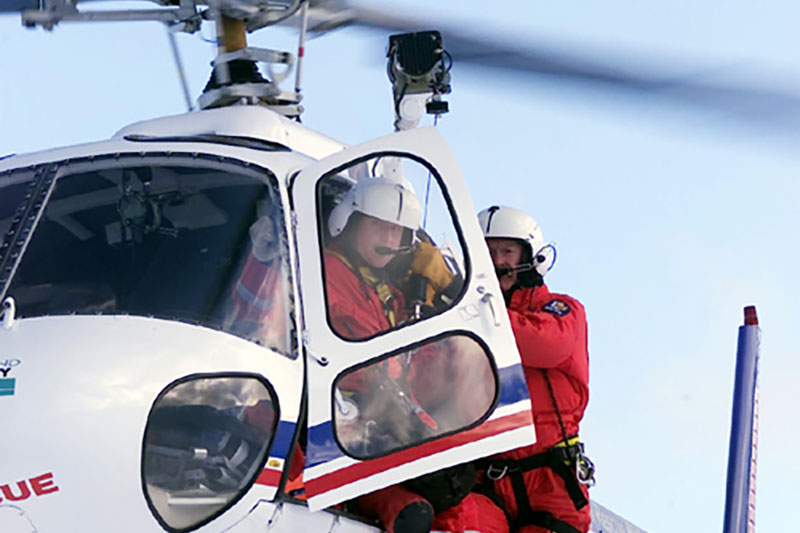 1994
Nelson Helicopters take over operation with a Squirrel AS350 helicopter.
1996
Garden City Helicopters (now GCH Aviation) take over operation with a Squirrel AS350 helicopter.
1998
A Breeze 300lb winch arrived from the United States which allowed rescuers to reach injured people within minutes after they were found in remote areas where the helicopter was unable to land.   For the previous seven years the service had used a strop but this had involved finding a clearing for the helicopter to land in, the rescuer would then tramp to the location of the injured or lost person.  Once there, they could not be hauled onboard the helicopter, but were lifted out harnessed to the end of the strop.
2004
Late in 2004 ACC proposed disbanding the helicopter service with a draft strategy suggesting specialist air ambulance services should be concentrated in seven cities, therefore the Nelson and Marlborough region would be served from Wellington – despite 86% of approximately 100 annual callouts being to the South and East of Nelson.  A local group including Nelson MP Nick Smith initiated a campaign to 'Save Our Service' with over 5,000 residents signing a petition before ACC backed down within days of the campaign launch.
2007
The Trust entered into a naming rights sponsorship contract with locally owned and operated Summit Real Estate.  Over the following five years with increased population, industry investment and tourism visitor numbers at peak seasons, the service saw an average 22% increase year by year in mission callouts.
2007
Lottery Outdoor Safety Committee granted funding for the purchase of two sets of Night Vision Goggles.  These allowed pilots and crew to fly at night without relying on moonlight increasing helicopter safety and callouts.  These were first used operationally in New Zealand's 'trickiest' cave rescue from Middle Earth cave which saw Dr Michael Brewer rescued after spending days in the cave system.
2011
The Nelson Marlborough Rescue Helicopter Trust celebrates 20 years of air rescue service in the top of the South Island with two of their founding Trustees still serving on the Trust, Robert Williams – Chairman and Dennis Creed – Vice Chairman.
A FLIR (Forward-looking Infared) was purchased and installed.  The FLIR which used heat to sense became operational.  It would be utilised in situations where there was a man overboard, lost trampers, heat seeking, fire hot spots and surveillance.
2012
Garden City Helicopters (now GCH Aviation) purchase a BK117 twin engine helicopter to meet new regulatory requirements.  Single engine helicopters were ruled out by CAA as they were no longer allowed to fly over built up areas which meant the existing AS350BA Squirrel was unable to land at Nelson Hospital helipad.  Further developments within the Ambulance and Paramedical Standards 8156 required access to the patient's head and mid thigh area whilst in flight which again ruled out the Squirrel.
With the arrival of the BK117 and the crew going from a volunteer base to paid crew to meet these new operational standards the Trust's budget doubled over night.  The Canterbury Community Trust granted $120,000 to cover the cost of these new crewing requirements for the first year and subsequent two years.
The Shinko 300lb winch was overhauled with a grant of $70,000 from the New Zealand Community Trust.
2014
Local company Flightcell donated a $20,000 DZMx satellite communications system. This system allowed the public to track the helicopter's path but more importantly gave the crew the ability to call anyone, anytime from anywhere and RCC to track the helicopter's movements and identify areas that hadn't been searched.
2015
An ambitious $280,000 capital fundraising campaign was launched to purchase and install a new 600lb winch.  The existing Shinko winch manufacturer was no longer able to service the winch as they stopped all manufacturing and servicing.  With the help of generous support of local businesses, grants and donations and the final donation from twice rescued man Rodney Boulton the Breeze Eastern winch was purchased and installed.  The new winch was able to carry both the paramedic and patient saving valuable time during winch missions.
2018
In March NASO (National Ambulance Sector Office), on behalf of the New Zealand Government, released their tender document and process for the purchasing of air ambulance and rescue helicopter services in New Zealand.  On 1 November 2018 Helicopter Emergency Medical Services New Zealand Limited (HEMS), a joint venture between existing providers Helicopters Otago and our operator GCH Aviation, from Christchurch commence their contract for the South Island.
2019
In order to meet the new NASO contracts GCH Aviation employ two additional pilots and two crew members.