MITRE 10 MEGA Helicopter House
Following the successful Helicopter House Build in 2017 ($142,000 was raised), and their second Helicopter House Build in 2019 (a whopping $210,000 was raised) Mitre 10 MEGA's Helping Hands Program is doing it all over again in 2021/2022 with the home going under the hammer or sold prior by The Cooper Group upon completion – view listing online now.
BE PART OF THE BUILD
Throughout the build, local Nelson businesses will be donating products and services, and their time and energy to build a contemporary three bedroom home fit for a family, retirees, and first home owners too!  With all proceeds going to the Nelson Marlborough Rescue Helicopter Endowment Trust.
The Mitre 10 MEGA Helicopter House Build is a project that benefits the community and generations to come as the money raised will remain in perpetuity.
This build we are encouraging people to 'be part of the build' and help us celebrate 30 Years of operation and make the build cost neutral. COVID-19 has severely impacted the service and the Endowment Trust is needed to future proof the service now and for generations to come.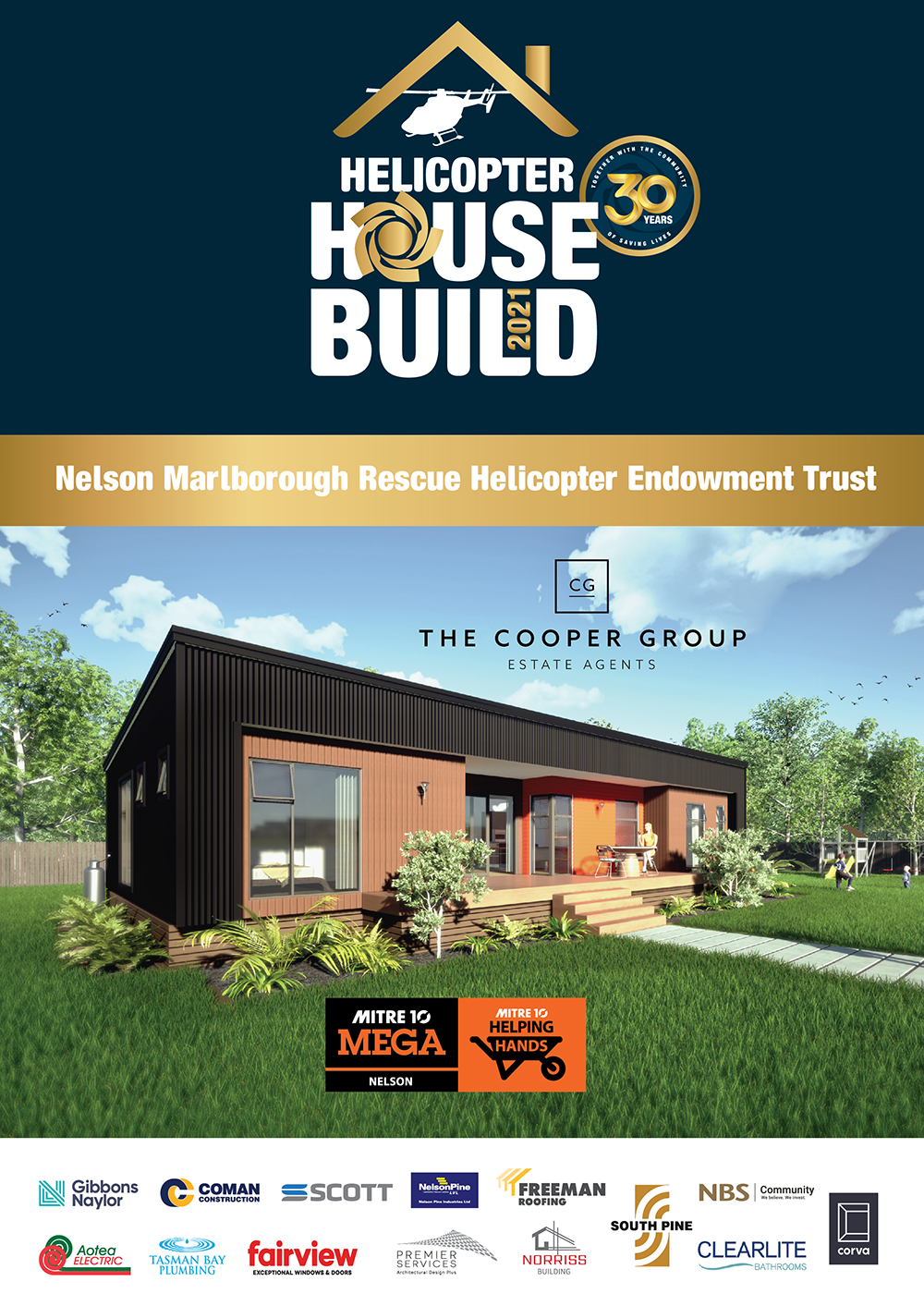 Where is it?
Located on the grounds adjacent to Mitre 10 MEGA Nelson, a home will be built on temporary piles so that it can be easily relocated to it's final resting place with it's new owners. Come along and have a look at the Helicopter House Build next time you choose to do some weekend DIY at Mitre 10 MEGA!
The Plan
The team at Premier Services have created an amazing design which is contemporary and utilises the space to an incredibly high standard.
The Build
This build is a collaboration between Gibbons Naylor, Coman Construction, Scott Construction, Norris Building and other builders who have come together to work on this community project. Other sponsors including Nelson Pine Industries, Freeman Roofing, South Pine, NBS, The Cooper Group, Premier Services, Fairview, Tasman Bay Plumbing, Aotea Electric and many more.
The Auction
Once completed, the Helicopter House will be sold via auction or prior with the proceeds donated to the Nelson Marlborough Rescue Helicopter Endowment Trust.  The Cooper Group are proud to be the real estate agent partner for this project.
They will be holding open homes once completed so you can see all the hard work the community have put into this build.  The three bedroom, two bathroom home will be staged by Ronni Symon of Home Staging Nelson who will be taking a blank canvas and turning it into a beautiful home.  Make sure you follow the Helicopter House Build through our Facebook Page.  For those of you wishing to buy your first home or even your last home, The Cooper Group are the real estate agents to talk to.